Man, it's been months again! But it seems I'm all alone now on this. Didn't hear anything from my co-author The Formless One in ages. Had a few others who wanted to contribute something to this blog, but they're all too busy with other stuff. Anyway, I am the Toywalker. And I'm gonna fill this site with my little KO knowledge whenever I find the time, I promise!
Today I got something special for you. One of the rarest MotU KO lines that you can find on this crude planet - if you're lucky! It's called "Galaxy Warrior - End of Time - The Last Battle" (EoT). This line was made by Sungold somewhere in the 90s, and distributed by Paradise Valley Toys in the US. Being late or mid 90s toys, it might seem questionable if these still can be called MotU KOs. But regarding the fact Sungold partly recycled some of their old Galaxy Warriors (GW) molds for making these figures, saying these're MotU KOs seems reasonable.
I was lucky enough to get my fingers on an EoT cardback, along with a bunch of figures and accessories.
According to the cardback, the line included eight nameless figures, with weird looking head sculpts, and an accessory I've never seen on any other MotU KO from the Sungold family before. When you look closer, you will see their legs and arms are different. They only kept the GW torso, which was still marked "Sungold". Another difference: EoT figures had ball joints on the legs, not rubber bands like Sungold's previous releases. 
Looking at the whole figure design, and the styling of the packaging, their maker obviously wanted to tie EoT up to his most famous MotU KO line, but also to take it to a next and final stage. The name "Galaxy Warrior - End of Time - The Last Battle" is hardly coincidental! 
Oddly there're EoT figures around that don't look like the ones pictured on the carbdack. They have GW sculpts through and through, except for their heads. Variants? Or yet another line? I heard rumors these might be Dino Warriors. But Dino Warriors is something else, I think. Too bad I've never seen these variants carded as EoT. The pictures of carded EoT figures on the internet is close to zero anyway. My cardback comes from an EoT 3-pack by the way! So much I was able to find out.
There's another inconsistency! The lot I scored includes two figures that aren't pictured on any EoT cardback anywhere! Basically these're repaints of GW Raah, and Triton. And, yes, unlike all the other figures the Raah repaint is a "long arm". Variant, or yet another line?!
To make it short - this last battle seems far from being over! 'Til next time, geeks!
Monster is a Universal Monsters bootleg line, and was assumingly released in the early or mid 90s. There's no year shown on the cardback. But the design of the figures and the artwork look totally 90s to me, and at some points remind me of the Toxic Crusaders action figures by Playmates.
Six Monster figures have been released. There actually was a German release by Simba Toys, too. So I'm gonna use the names from Simba's cardback, since the Sungold ones didn't have any names on the card either. Say hello to…

Bloody Mummy
Killing Beast
Sharp Hand Joe
Midnight Wolf
Green Frankie
and King of Vampires
The execution of the figures seems poor. I can't tell too much about their actual quality though, since I don't dare to open the blisters. The artwork looks like the drawing of (a very talented) 7 year old. But you know what? I LOVE IT! These figures have the same charme like some B-movie adaptions of the original Universal Monsters films. Of course, you can't expect a high quality product. But what you get is a rare collectible, that's just lotta fun to look at!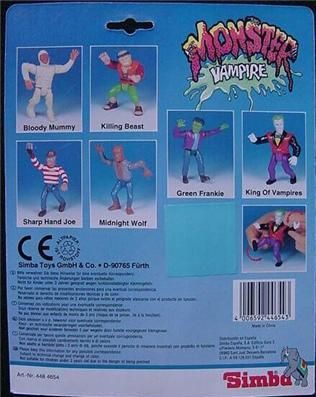 Source: http://freddyinspace.com
I'm not an expert when it comes to Universal Monsters action figure releases. But my friend Rainer gave me the hint that parts of the original Monsters 6" figures by Marx from the 60s have been copied for the Monster sculpts. I did some research, and yes! When you take a closer look at the arms of Frankenstein, Werewolf, and Mummy on the pic below, you can see their arms have actually been bootlegged for the Sungold releases.


Source: http://coolandcollected.com
I also mentioned the Toxic Crusaders influence above. Well, when we take a look at our pal King of Vampires, what sure strikes us first is his resemblance to Dr. Killemoff, Toxies old arch-enemy. Frankie's vest and legs look almost like exact bootlegs of the Killemoff figure!
(Source: blog.toy-sector.de)
"Dragged into the Underworld by a terrible earthquake, the 5 inseparable friends [Primus, Sekundos, Spikes, Satoh, and Aquarius] were attacked by the merciless, atrocious Hordes of Theutates, the Lord of Darkness. The Hordes threw the Turly Gang into the gigantic lava pot causing all volcanic eruptions on planet Earth. The 5 friends did not burn up from the unimaginable heat, though. Instead, it turned them into steely fighters of enormous strength. The Turly Gang stirred up the lava until they were backdraftet to Earth's surface, by a huge volcanic erruption. "Free", rejoiced the Turly Gang. But the friends haven't made up their mind yet. The terrible forces of the Underworld have also been dragged to light by the erruption they have caused. A never ending fight of good against evil began."
Primus v2
What actually sounds like the synopsis of an early 90s trash movie is infact the back story to one of my all time favorite toylines ever made: The Turly Gang - Fighters of Freedom by euro play. Just like the story, mixing up all kinds of popular mythological elements, the toys used all sorts of figure parts that have been proven "popular" in the 80s KO genre. euro play "bootlegged" Galaxy Warriors / Fighters, and Lord of Insects, changed the accessories' color from silver to black, and threw in at least 4 altered head sculpts, that were supposed to give the toyline its name. 
Sekundos v1
Galaxy Fighters Iguana & Turly Gang Sekundos  v1
Turly Gang came out in the early 90s, when TMNT was at its peak of success. euro play came along like many other toy manufacturers, and also wanted a piece of the cake. In order to do so, they needed something to make Sungold's and Sewco's genuine MotU KO figures associated with the Turtles franchise. Two of the altered head sculpts they threw in were "customized" Iguana heads, taken from the Galaxy Fighters figure. To create the "Turly" looking figures Primus (v1) and Sekundos (v1), euro play molded pink / yellow diving goggles (?) on Iguana's head. These goggles seem to be based off the masks of the Turtles figures by Playmates, and gave the Turly Gang figures their TMNT'ish look. Oh, and their green sculpts of course! For the v2 figures of Primus and Sekundos, euro play have either molded relatively cheap looking, new head sculpts, or revised some other TMNT bootlegs that were around in infinite numbers back in the days. The v2 figures look alot more like TMNT figures actually, or rather like arrant TMNT bootlegs, because of their peckered mouth.
Primus v1 MOC
The carback showed only the v1 Turly figures (which is actually the reason, why I call them v1 figures). 
As it's usually the case with KO lines, the Turly Gang was gone just as fast as it had appeared in stores. Plus it only got released in Germany and its neighbor countries (Belgium, Netherlands), which makes these figures extremely hard to find anywhere else these days. Especially Sekundos v2 is hard to get hold of.
Sekundos v2, taken from Drekkus' collection. Source: http://www.onlinetoyshow.com/
It's been a while again, KO brothers. But here it is, finally - another update on what keeps us KO collecting weirdos going in this world.
All part of the Mannix family - from front to back: OverTop Man, Monster Maniacs, Apes Attacks, and Mannix Wrestlers.
An entry on the broad field of Mannix and Mannix related knock-offs was long overdue. I wish I had more stuff to cover this section properly. The problem is though, this stuff is extremely HTF. Mannix toys were mainly distributed in Europe, and were never meant to exceed a limit of probably a ten thousand copies. 
Adam Bomb OG Hasbro & Mannix bootleg / KO 
Mannix Co Ltd, founded in 1988, started their "career" as famous action figure knock-off manufacturers in the mid 90s, when Hasbro's popular WWF toyline had come to an end. Mannix' initial release were the WCW bootlegs, known as Wrestling Champion, or IWC - International Wrestling Champions. These figures used some of the famous WWF Hasbro head sculpts - like Adam Bomb, Hulk Hogan, Lex Luger, and Razor Ramon. Hasbro possibly had turned the molds over to Mannix for some peanuts. Like huge toy companies do when production for their own toys stopped, but they still want to make some cash by selling the molds to anybody else.
Razor Ramon & Adam Bomb Mannix bootlegs
What Mannix didn't use were the old Hasbro bodies. These got replaced by more bulky, bigger sculpts - of course without action move, since these figs had to be done cheap to make some cash of them. Head, waist, and arms on the Mannix wrestlers were articulated. As a matter of fact, these figures were simply held together by a small screw, connecting the back and the front piece of the torso, and making head, arms, and the lower part of the body "fit in" with the torso.
Apes Attacks & Mannix Wrestlers
Two variants of Mannix torsos, arms, and legs were produced: the "8-pack" & "pottbelly torso", stretched & bended arms, bowlegs & knock-knees. All wrestlers had the typical kneepads, and the open right "Mannix fist", which looks like it was originally designed to hold some sort of weapon.
Since the Mannix wrestlers didn't come with any accessory, I think it simply was the genius of Mannix to come up with a handful of sculpted parts that could be used for all kinds of possible toylines to come. Lines going by such great names as OverTop Man, Apes Attacks, Horror Wrestlers, Monster Warriors, Monster Maniacs, Two-Faced Evils, Viking Warriors…
Monster Maniacs: The Ultimate Wolf Warrior, Chainsaw Tex,
and Frankensteiner.
Companies who used the Mannix molds for their own toylines, like TT Toys (OverTop Man) or FunTastic Toys (Apes Attacks), incorporated new elements, and sometimes used slightly altered sculpts. Basically, the style of their figures remained the same though, so we can actually speak of a whole connection of Mannix and Mannix related knock-offs. Created by a handful of companies who more or less legally passed the molds from one to another throughout the past 20 years.
German Butcher from OverTop Man w/ Monster Maniac Chainsaw Tex
OverTop Man NY Gorilla w/ Adam Bomb bootleg
The last release of Mannix related action figures I know of were the already mentioned Apes Attacks by FunTastic Toys from 2004. These were exact copies of the mid-90s Mannix sculpts, combined with a bunch of cool Planet of the Apes knock-off head sculpts. These turds are even tougher to get hold of these days, since they have been released in the UK only.
I think this is not going to be the last release of Mannix related action figures though. I heard rumors about some new independent toy company planning to release a bootleg series of Mannix sculpts. So, keep your eyes peeled, geeks! The hunt appears far from being over yet!
Holo Apes - Apes Attacks bootlegs spotted on the Internet
For all those of you, who are too lazy to read through the blog. Here it is on mp3.
"I'm in the rasslin' business" is what Ted Turner said to Vince McMahon back in the 90s to start the legendary "Monday Night Wars". Well, he wouldn't have thought of the "Wrestling Champions" I was reviewing some while ago. I mean, who'd really remember such "superstars" like "Mr. Unknown", "Brut" oder "Mask". Yes, a guy, that's actually not wearing a mask.
Well, now many of you will state: "Those Wrestling Champions never had any names, they only had numbers." And who would not find it utterly amazing hearing Howard Finkel say: "Coming down the aisle, from Houston, Texas, weighing 268 pounds… he is 338/3." Of course, I know, you'd love that. But to be honest, maybe we all thought wrong, because some weeks ago, I was shown, that there are actually some "Wrestling Champions", who made their mark. Yes, so blatantly blessed with charisma and superstardome, they made it into the big league. They are the "Yellow Border Wrestling Champions".
Back in the 1980s Europe had some french Masters of the Universe figures, who would have had some yellow line around their back cards. Not only with those great european names like "Musclor", "Maskor" or "Oceanor" on it, no, they shall now be some of the most expensive figures on the market with their golden touch among other action figures.
And this is what makes the other "Wrestling Champions" so great. In the world of Wrestling, they are, what those french Masters are in the universe. Yes, of course. Look at them.
One has even two different boots on him. A paint job that is so magnificent in the world of knock-offs, it brings tears to every kid's eyes. Maybe those tears back in the 1980s or 90s have been, because that kid rather wanted a Hasbro WWF figure, but I think, secretly it was because of overwhelming art.
So, here they are. No more numbers, no more fooling around, just simple plain action with "Mask", "Brut" and wait a minute, what does it say on the back card?
"Wrestler"? So is this all a mere charade? Or is this the real Monday Night Wars, where some Intruders from the Toyline "Wrestler" invade the league of the "Wrestling Champions" to build the New Knock Off Order? Be flattered people, if you own these figures, because there is a lot more to these wrestlers, than you might expect in the first place.
"Wrestling Champions" with "Wrestler" Back Cards and vice versa. Even other wrestlers, who also may call themselves "Wrestling Champions" and even some champions, who have new names.
I cannot wait until "Grey Wolf" faces "Gorilla Man" for the Interknockoff-Title in a steel cage.
Well, you know somethin', brothers… I guess these figures may need another entry in this blog. The road to rasslemania is long…
Greetings from The Formless One.
Which names of muscular action heroes from the 80s do I remember the most? Right, there was Conan, then there was He-Man, and then there also was… JOHN J. RAMBO! Of course, I wasn't allowed to watch the movies as a kid. But I didn't have to watch them to know what Rambo was about. Well, First Blood actually turned out to be totally different from what I've expected, when I saw it the first time as an adult. (Isn't it amazing btw. how they transformed Rambo from an outcast suffering from PBTS into a full blooded Vietnam war hero in Rambo II?)
Yes, Rambo's aura was ubiquitous back in the days. That image of muscular Sylvester Stallone, with scars all over his chest, red headband, holding that fully loaded heavy machine gun in his hands, it was literally everywhere! Rambo became a synonyme of raw masculinity, violence, and heroism - a role model to a whole generation of youngsters who got attracted to everything muscular with weapons. The toy industry knew that, and also wanted to have a piece of the Rambo cake. It was Coleco who came up with their Rambo: The Force of Freedom toyline in 1986. From there on, and due to the movies' success, it was just a question of time until the first Rambo bootlegs and knock-offs found their way to the market.
The most popular Rambo KO is M-Force I guess. A fantastic toyline we hopefully gonna see more of very soon on here. For now, I'd like to present you another weird Rambo KO / bootleg toy.  It's called Adventure Man (AM).
I already had a few loose AM figures in my collection, but didn't really have a name to them until I saw pictures of them carded on the internet a few weeks back. And I finally made it to score one, as well. The figure just got here. So, let's take a closer look at it.
What stroke me is that the AM I got is stiff - unlike the other carded dudes that I've seen, and the ones in my collection who do have articulated necks and shoulders. Otherwise it's the same muscular sculpt, with green painted trunks, black boots, red laces, and a red headband. It comes with a rocket launcher and a bandoleer, and the guy's facial expression looks like he's suffering from PTSD, terminal stage.
The best of this AM figure is the artwork though! It took me a while to figure out what it actually is. But take a look for yourself.  
You see what I see? Yes! The artwork is an arrant copy of some Rambo II movie poster. They simply gave John J. a beard, and a few more bullets to pretend as if it was a decent artwork. Fantastic, eh? 
What I'd really like to know is if there are any other Adventure Man figures around. I also have this bearded dude, who looks more or less like the "Rambo" shown on the cardback. But I've never seen him carded yet. Neither can I tell if Adventure Man is the only name that was given to this figure(s). The card has no printing on the back, and there's not much info on these toys around. So the carded dude doesn't really tell me more than the loose figures I already had. He doesn't even tell me who created him, nor when he was made. His card simply says "Made in Hong Kong, No. 8822 - For Ages 4 And Up". But anyway, even with almost none information given, this AM figure on that Rambo II bootleg artwork is awesome. This shitty piece of plastic junk was created after the divine image of one of my favorite movie heroes of all time. And being a KO collector, that's actually everything what counts. 
In my last entry I came up with some thoughts, regarding the origin of Snake-Men 'KOs'. As a matter of fact, MotU and their look-alikes were massively influenced by Frazetta's fantasy art of the 70s, the 70s Conan comic books by Ernie Chan & Co., and the pulp fictions by R. E. Howard from the 1930s.
Even if Mattel keeps denying this for some reason, without Conan there would have been no sword and sorcery toy genre, no MotU, and no MotU KOs. While Mattel made millions of dollars in the early 80s with their Conan counterpart He-Man (hate me, but that's what he is), the smaller, New Jersey based toy manufacturer Remco started their brilliant muscular 6-inch lines: Conan, Lost World of the Warlord, and Warrior Beasts. We've already seen some of the Warrior Beasts on here. So it's about time to shed some light on the other lines, too. The Lost World of the Warlord (LWotW) action figures were based off the sword & sorcery comic series 'The Warlord' by Mike Grell, which started out in the 70s, as well. And it also might have influenced the creators of MotU at some point.
The LWotW toyline consisted of just six figures: Arak, Deimos, Hercules, Machiste, Mikola, and Warlord. All of them appeared in the 70s comic series. Except Hercules, who had his own comic, that was based on the greek demigod and hero. All the figures basically had the same classy Remco body sculpts (the ones that were used for Conan and Warrior Beasts, too). Only the head sculpts were unique, and amazingly awesome. Each figure came with one or two weapons, like a staff, a sword, a dagger, or an axe. They also used to have garments like capes and vests.
Warlord
Arak
Looking at the figures and their context, I find it more and more difficult to call them MotU knock-offs. Because technically, that's not what they are. They used to have their own more or less 'genuine' universe, which happens to be a few years older than He-Man. Just like the first wave of MotU, the LWotW figures came out in 1982. So, if Remco was really stealing the idea from Mattel, they must have done so unbelievably quick. Indeed, it would be interesting to look at the exact release dates of the first MotU figures and Remco's muscular 6-inchers. Probably with just a few months in between, it's hard to believe that Remco was stealing anything. I prefer to look at it like their toys simply reflect their period's 'zeigeist'.
Deimos
Mikola
So, the only reason why one might call the brilliant Remco lines KOs is because MotU turned out to be the bigger commercial success. Mattel simply had the bigger money, and they knew how to keep a gigantic marketing machine running. They also knew how to sue everybody who in their terms 'copied' MotU. That's where a relatively small manufacturer like Remco had to give in and leave the field to Mattel.
Hercules
Machiste
Imagine the same money and effort would have been put into LWotW marketing, we'd probably call MotU a knock-off, and LWotW the original today. Comparing the toys, it's definitely not like one toyline was more 'original' while the other was stealing from it. No, I think it's simply the money that was (and still is) making the difference. And that's it.
Hey geeks, it's been a while. So I thought it might be cool to give you another blog update on our favorite subject: MotU KOs. This time I want to take a closer look on some "Snake Men knock-offs".
From left to right: Galaxy Heroes Reptilian, Turly Gang Snaker, Galaxy Warriors Sahak, Warrior Beasts Snakeman, Galaxy Fighters Kobraa.
I think everybody is familar with King Hiss and his snake faced evil fellowship, the Snake Men, that came out from '86 to '87 as part of the Masters of the Universe toyline. Ironically, most of Snake Men 'KOs' came out earlier than the "originals". Remco's Snakeman (Warrior Beasts) f. ex. is from '82. That's even two years earlier than MotU's Kobra Khan, who was released in '84, when the Snake Men didn't even exist among the MotU franchise yet.
Also Galaxy Warriors' Sahak ('83) and Galaxy Fighters' Kobraa ('84) seem prior to the "original" MotU Snake Men. It rather appears that Mattel was inspired by the Sungold, Sewco, and Remco designs, in order to create their own snake headed action figures. This also shows that KO lines aren't just cheap "copies" all the time. They can be as innovative as the so called "originals". In some ways the "originals" are knock-offs, too. All those muscular sword and sorcery toylines from the 80s didn't invent anything new, they just adapted or enhanced what was already there. When it comes to snake headed muscle men, what might these traditions be? 
The MotU "originals".
Well, snakes are an archetype of villainy and have been used in the conceptualization of pop culture toys over and over again. I think the main reason why they've been so popular in the 80s is that to Christian affected westerners, snakes have always been a symbol of the ultimate evil. Names like Venom (MASK), Cobra (GI Joe), and the Snake Men (MotU) leave no doubt about the viciousness of their holders, and the necessity of some good guys to kick their butts.
The muscular 80s toy genre is also massively influenced by the fantasy art of the 70s. There is this great article I found on the web, called the "Frazetta Connection", pointing out the influence of Frazetta's work on the Galaxy Warriors toyline. I think you cannot underestimate Frazetta's impact on the whole muscular sword and sorcery genre. Frazetta's paintings of sword swinging barbarians in loincloths, especially for the Conan franchise, seem to be the archetypes of He-Man and his many knock-off brothers.
Frazetta artwork
Muscle Warriors Snaker (?), and Galaxy Fighters Kobraa.
The predecessors of the Snake Men appear in the very same period, in the epic Kull and Conan comic series by Thomas, Buscema, and Chan from the 70s. It's depicting Conan's archenemy Thulsa Doom, the evil sorcerer and sometimes leader of a humanoid snake race, called the Serpent Men. In the '82 Conan movie, Thulsa Doom is introduced as a guru of a snake cult, who can transform his body into a snake.
Movie Thulsa Doom and Serpent Men in a Kull comic.
In the original pulp fictions by Robert E. Howard - the guy who originally invented the Serpent Men and the whole "Hyborian" universe (that is Conan's and King Kull's universe) as early as in 1930s - Thulsa Doom is described as a muscular man, but with a face like a bare white skull. No doubt, what we see here is a predecessor to Skeletor as well, and the many KOs that followed him. But that is just another story I guess. Until next time, geeks!
Remco's Warrior Beasts (WB) are one of the most popular MotU KO toylines from the 80s. A rad mixture of unique, ugly rubber dinosaur head sculpts, and classy muscular 6" body sculpts. It is this mixture I guess, which makes this line so admirable to KO collectors.
The head sculpts remind of Imperial's beasts & creatures. Imperial is well known for flooding the toy market of the 80s with ugly rubber dinosaurs, Godzilla bootlegs, and all types of beasts and creatures, that were meant to be played with Masters of the Universe and other 6" toylines.
WB were advertised as the villains of the Lost World of the Warlord (LWotW) - another popular MotU KO line, that was based on the DC comic by Mike Grell. Anyhow they're considered two different toylines, even though Remco used the same body molds for both LWotW and WB figures.
WB were sold single carded or in sets with rad looking steeds. The steeds were called Fire Dragons. For their Fire Dragons, Remco used molds of Imperial look-alike beasts. These beasts were also sold seperately as some cheap dino imitations during the big dino-boom of the 80s era across Europe. This is how I got in touch with them as a kid, apart from the WB figures that I didn't even know as a kid. It also explains why it's not too hard to find one of these ugly mofos over here, while it's nearly impossible to find any WB figures. Especially in Germany. So far I can tell, WB have never been released in Germany officially. They're more common in the US. But can also be found in France, and Belgium, where they go for a pretty penny though.
Overall, 13 WB figures have been released. Including some variations and versions. So far my collection covers 9 figures, and the two versions of Fire Dragons.
Guana w/ Fire Dragon v1, Craven, Stegos, Hydraz, Wolf Warrior, Snakeman, Gecko v1, Skullman v2 w/ Fire Dragon v2, and Zardus (from left to right).
Craven
Hydraz
Gecko v1 w/ Fire Dragon v2
Gecko v2 w/ Fire Dragon v1
Guana w/ Fire Dragon v2
I'm still missing Skullman v1, Zardus, and the two Ramar figures, that were exclusively sold with the Fire Dragons. I hope to complete the collection some time, even though it seems impossible to find those two Ramars and Skullman v1 anywhere.
By the way, it is known to KO collectors that the Skullman v2 has the same molds like his transculent and shit rare counterpart - Remco's Jewel Thief, from the Conan toyline. Fortunately Skullman doesn't go for the same insane money yet. A complete one in nice shape can be a bitch to find anyway. The v1 is even tougher to get hold of. Not to speak of the Fire Dragon giftsets. Indeed, I'd assume them to be a myth, if there wouldn't be any photos available on the internet. I can't even say if the Fire Dragons in my posession have ever been packed as "Warrior Beasts", or if they have been sold apart from that.
Whatever they are, one thing is for sure - they're awesome. Just like the entire WB toyline is!
Well, if you read closely through this blog, you might have noticed that Luke has mentioned a knock-off-line, that is named "Wrestling Champions" and is actually, yes you might have guessed it, a wrestling KO line.
In the 1980s there have been, as you can clearly see, a dozen toylines using the same bodymolds for their figures. So, it may come as no surprise that at least one company had the tought of using these for some wrestlers. Since these companies mainly worked on producing cheap figures, these wrestlers were all fictional, meaning no licenses from WWE (WWF), WCW, ECW, ROH, TNA or else were needed.
That said some of these figures look a bit generic, pale and uninspired, while others seem to give free rein to your imagination. For example take a look at these two fellas (Sheamus pun intended):
So, at first you have your normal looking no-name wrestler, mainly getting beat up by some superstar in the early 1990s within four minutes, underneath that the masked superstar, being reminiscent of Fatal Fury: Mark of the Wolves' Tizoc.
You can clearly see, that these two do not share the same body molds, which shows, that there were actually two different lines under the same name with the same package. The guy on the left side, which holds the number 339/2 (They have no names only numbers) is characteristically for the whole line as you may notice in the following picture.
Actually these seem to be the right toyline named "Wrestling Champions". The other one with the eagle helmet, has the Combo Warriors as back card, meaning that he simply may be a knock-off of a knock-off-series made by sungold or should I say bootleg of a knock-off-series. Well, this would take us to a complete new level of bootlegging leading into a black hole, I guess.
Anyway, many people seem not to like these wrestlers or even the action figures with these bodies - at least wrestling lines out there are plenty, being named "Wrestling Champs", "Champion Wrestlers" or simply "Wrestlers" - but I think, they still rule, maybe because of childhood memories, where these molds from simba toys, sewco, remco or as mentioned sungold stood for the poor man's version of Masters of the Universe, but I always saw them as an addition to a whole new universe.
Oh, and by the way: These Wrestling Champions are not to be confused with "Wrestling Champions".
Yes, but that's a completely different story.
Greeetings from Germany
The Formless One